Compassion Development Programs
Virtual or in-person one-on-one and group sessions available.
Become more Resilient to Stress and prevent and alleviate burnout.
Focusing a lot of energy on others and/or our careers can lead to compassion fatigue also known as secondary traumatic stress. Secondary stress, for an individual, can lead to decreased feelings of safety, increased cynicism and disconnection from loved ones. For businesses it can result in employee health issues, lower productivity and higher turnover. For organizations employing healthcare professionals, compassion fatigue negatively impacts the quality of care provided.
Research suggests that individuals, leaders, employees, caregivers and healthcare professionals who are trained in self-compassion are less likely to experience compassion fatigue and/or burn out.
Virginia understands, first-hand, the stress and pressures placed on individuals and professionals. She was a full time litigation attorney and a single mom to very young children. She was a full-time caregiver to her husband for three years while at the same time parenting three teenagers and a toddler.
Through this program individuals can discover and come to understand self-compassion and how practicing it can improve their physical and psychological health and more. Practicing self-compassion can foster better, more caring relationships and more success in all aspects of our lives including as parents, partners, employees, leaders, business owners and caregivers.
Self-compassion makes us more resilient to stress.
Learn simple and scientifically proven techniques for developing self-compassion.
Commit today to creating an environment and learning techniques whereby everyone including the leaders and employees in any organization can reduce or avoid burnout and thrive.
Attendees will:
– Understand the impact of compassion (and self-compassion) on an individual's health and well-being and the research and biology which supports it.
– Receive simple practices (handouts) that will foster compassion to enhance the quality of service they provide and enhance the health and well-being of the leader, employee, caregivers and healthcare professionals themselves.
Heal and Thrive with Compassion
The hurts we have experienced in our past can haunt us in our present life and even rob of us life's enjoyment. Virginia found herself in that situation. Virginia faced many challenges in her life as we all have. She was a victim of domestic violence, a single mother to four children, a full-time caregiver to a terminally ill husband, a widow, a divorcee and more. She discovered the power of compassion to heal those wounds.
She also discovered that we thrive when we live compassionately. Researchers all over the country and even the world are uncovering the science behind the amazing benefits of living a compassionate life. Compassion dramatically improves our careers, our relationships, our communities, our schools and even our physical and psychological health.
You will discover how the science of compassion can help you heal and thrive. Scientifically proven practices for creating more compassion in your life will be shared.
Commit today to dramatically improve your life.
Other Programs Available
The Surprising Key to Great Health: Compassion
Recent scientific research shows that compassion enhances health – speeds up recovery from disease, boosts our immune systems and more. Find out about the recent research regarding how compassion impacts your health and practices to develop more compassion in life.
Improve Your Business Bottom Line Using the Science of Compassion
Competition is not the key to success in business. Success is based on creating a climate of cooperation, collaboration and meaningful relationships. Learn tools to create professional success for yourself and your business.
Create a Better World by Teaching Children to be Compassionate
Compassion can be learned and fostered. Providing that foundation will propel children to be more successful in every area of their lives. Teaching tools include compassion curriculum, books and more.
Building Communities that Help Us Thrive 
Something positive is missing from our lives, our communities, our schools and even our families. Discover what is missing and simple
tools you can use to create families and communities that build us up and help us thrive.
Books by Virginia Sampson
Winner! Best Non-Fiction Inspirational Book by Texas Author's Association, 2017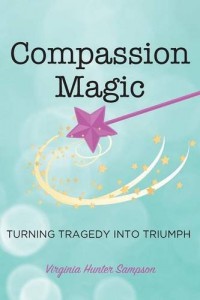 Virginia experienced death, divorce, domestic violence, single parenting, step parenting, grief, full time caregiving to a terminally ill husband, dealing with two adolescents addicted to drugs and alcohol and more.  She was angry, bitter and depressed. She blamed God, the world and everyone in it for her unhappiness.  So she embarked on a journey to revisit the heartaches of her life in hopes of finding some relief from her anger and depression.  In her mind she was going to get a "do over" of her life and this time she was not going to make the same mistakes that had brought her to this unhappy place.   However, as she journeyed through her life she didn't end up fixing mistakes.  Instead, to her complete surprise, she discovered the healing power of self –compassion and compassion for others. Compassion turned her tragedy into triumph and led her to discover a happy, fulfilling, connected and successful life.
She wants to share her experiences with others to help them discover the magic of compassion in their own lives.
Superhero Sam Saves His Family
Winner! Best Children's Educational Book by Texas Author's Association, 2016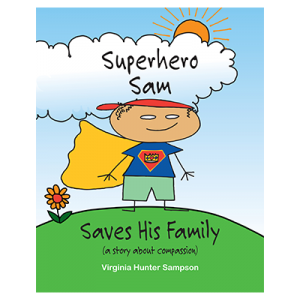 Sam has a problem. He is not getting along with his parents. He is angry because they don't do fun things with him. He blames his parents but soon realizes, as he listens to them talk one evening, that they are not ignoring him. They are busy and tired. So he gets a bright idea. What if he starts helping without being asked- or begged- to help?  He tries it out.  See what happens when Sam changes his attitude and discovers the power of compassion.
Coming Soon!
Superhero Sam Meets a Bully